Case Study #1: Last-Minute Book Printing
Book publishing is a complex and exhaustive process that requires keen attention to detail, efficiency and coordination. Books are made up of various components and require a team of skilled professionals, from editors to layout designers to cover illustrators, who can produce a great final product in a timely manner.
RN Printing was recently hired by a client from a government agency to publish 600 books in less than 24 hours. A branding team pointed the client to the direction of RN Printing saying, "If anyone can get it done, it's RN Printing."
The client contacted RN Printing on Wednesday midday and expected to have the finished product by Thursday morning.
The project itself was difficult enough given the time constraints and the complex nature of the book publishing process. But the job order became more challenging because the cover artwork was not yet available until 4 o'clock in the afternoon.
Round-the-Clock Reliability and Network of Experts
RN Printing was able to print the book and deliver it to a conference in the city on Thursday morning. This was made possible because of the company's extensive network of professionals and highly efficient system that provided round-the-clock reliability.
Case Study #2: Unfamiliar Location
Setting up signages can be demanding and difficult especially if it is in an unfamiliar location. A Sydney-based marketing team who handle different campuses around the country needed to set up a signage for a large school building in Brisbane. They needed a service provider that didn't just give a cost-effective offer but was skilled at what they do.
Solution: Confidence and Solid Experience
RN Printing has a vast network of connections within the printing industry including many key signage suppliers in Perth, Tasmania, Queensland, Adelaide and Victoria. RN Printing has also served multiple clients from the corporate world to the academe. This gives them expert insight into the best practices and most efficient methods for setting up signages in different locations.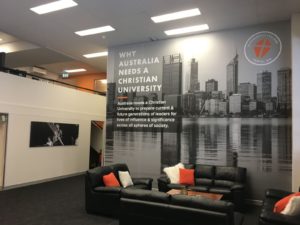 Case Study #3: Large Sized Banner
Banner printing can be tricky especially if it involves a big size. A client required a large high quality banner (14400 x 3200). Not many printers have the capacity to print out large-sized signages. Most of them will just combine three separate banners into one.
Solution: Wide Range of Services
RN Printing was able to meet the client's exact specifications and complete the project in a timely manner. The business relies on innovative technology and vast network of experts to make sure that clients get what they want in the most cost-effective way possible.
One-Stop Shop
Why hire multiple suppliers and professionals when you can get all the printing services you need all in one place?
Get more done with RN Printing.