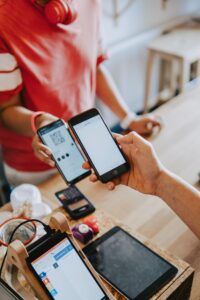 The reason why all kinds of businesses have looked for ways to offer customers a touch-free experience – and one way was to use QR codes.
It is not a coincidence that we've been seeing a lot more of QR codes ever since the Covid-19 pandemic began. In fact, one could say that the pandemic had actually saved QR codes from extinction. Now, with Covid-19 still looming over our heads, QR codes hold even more potential as they have become an essential and welcomed tool for many industries and help them get back on their feet in the face of the pandemic while keeping their customers safe at the same time.
How to Use QR Codes?
QR Codes may have been around since the 90s, but to this day, not everyone knows how to use it. With the pandemic and a lot of businesses taking advantage of them, we have to learn. So how do you use QR codes? There are 3 easy steps:
There are 3 easy steps:
Open up your phone camera
Hold the camera over the QR code, making sure that it is able to be clearly captured. Most phones automatically scan the code and go to the link after holding the camera over to the QR code.
In case that your phone doesn't automatically direct to the QR code's supposed link, simply press the button to snap a picture, not unlike the button on your smartphone camera.
Touch-less Experience
Because the Covid-19 virus is known to still stick around on surfaces even after many hours, many individuals are hesitant to go out and do business, eat at restaurants, and do the things that they used to do. Thanks to the advancement of technology, QR codes can help ease the worries of these businesses by making sure they can remain operational without risking the safety of themselves and their customers. With health and safety at the forefront of everyone's mind these days, QR codes quickly give access to information on cleaning procedures and expected customer behaviour protocols.
Instead of physical restaurant menus, menus can now be found on your phone through a QR code. Payment can now be done through QR codes as well. These are just some of the things that these unique looking codes can do – the layer of safety that QR codes bring is beneficial to both the customers and the business owners.
Other Benefits of QR Codes
Without the use of QR codes, how else would business be able to cater to their customers in a convenient way? Sure, customers can visit their favourite restaurant's website or their Facebook page simply to get a glimpse of their menu, but that would be too time-consuming. And in today's world, it's a bit more fast-paced and looking for a website and searching through it merely to find a menu may very well just be a waste of time. With QR codes, it literally takes a few seconds and whatever you were wanting to see is now in front of your eyes and in your hands.
With a quick scan of a QR code, individuals are now able to access thousands of things – you can give consumers access to unlimited information. You can mix all sorts of media in order to keep your consumers engaged. You can do so by merely putting these QR codes in any of your print materials: your restaurant menu, in your store poster, on a brochure, banner… practically anywhere and in any form. Once you access the codes, you can now use text, audio, video, anything that you think would work best for the purpose in your mind.