ISO Compliant Colour Print Services
Colour optimisation and colour accuracy are key elements in successful and consistent branding. Colour can impact visual appeal, brand awareness, and even brand credibility, so it is important to get is right the first time.
Our printing services utilise a range of precision colour technologies, including compliance to the ISO 12647-2:2004 system certified to international standards, designed to enhance colour consistency and improve colour quality. We take pride in our industry-leading offset printing systems, and our clients benefit from our commitment to producing consistently excellent colour.
Proofing Options
Proofing is an integral part of our service, and our pre-press team is always on hand to ensure colour consistency. Our team members are passionate about colour accuracy and we work hard on colour precision and consistency. Our goal is to deliver deep, rich, and vibrant colours that our clients will be passionate about.
Choose from a range of proofing services for all print jobs:
• Soft proofing:
o You will be provided with a PDF or Smart Review electronic proof for online approval.
• Hard proofing:
o You will receive an indicative Epson digital proof to show colour representation of your supplied artwork file/s.
• Colour matching:
o For your precision jobs – access a combination of Epson digital proof and on site press check to ensure exact colour matches.
Preparation to send to Print
Supplying Artwork
Within the bounds of the printing process, what you create is what you get back, so if the artwork is not perfect – the printed product can't be either. If you have not created artwork for print before, please talk to us as early as possible during the process – as we can give you as much support needed!
Press Ready Files
Ideally, the file you provide us for printing should be a high resolution PDF with bleed and trim marks. Raster elements should be 300-350dpi, colour space should be CMYK, each job should be a single PDF file, each page/side should be single page within that PDF (no spreads).
Bleed
We recommend 3mm of external bleed on all files. Bleed is stuff that extends past your trim edges. So if you want a card to be cut as 90mm x 55mm your artwork will be 96mm x 61mm so that we have a buffer when trimming and you won't end up with white edges.
Internal Buffer
The space from the trim edges to important details in the artwork. We recommend 3mm of internal bleed on all files and 5mm on booklets – that means keeping all your important information (i.e. text) inside this area.
PDF Files
Ideally all files should be supplied as PDF. If your job is single sided you simply supply a one page PDF. If your job has 2 pages (a front and a back), then we prefer a two page PDF file. If you have a job with multiple kinds, then supply a one or two page PDF for each kind.
CMYK
Colour space should be set as CMYK not RGB as RGB artwork will be converted to CMYK and this could affect your colours. No spot colours unless the job has been specifically quoted that way.
Fonts
Your fonts should be embedded (full or subset). That is standard in most PDFs, but if for some reason you are supplying the "native" files (i.e. InDesign, Illustrator, etc) then you need to include the fonts you have used so we can make any changes and create the PDF for you.
High Resolution
The raster elements (pixel-based images) you use should be high resolution for the best quality print. When creating in apps like Photoshop please set the resolution to 300-350dpi before starting your new design.
Full Colour Black
Full colour blacks (e.g. 100% C, M, Y & K) use HEAPS of ink so they take AGES to dry before we can cut them! If you want a really deep black use 100% K with 30% C and 20% M.
Trim Marks
If you provide trim marks on your supplied artwork we know exactly where you want it cut. Most modern design software has the ability to include bleed as part of the document setup.
Monitors
Understand that colours look differently on computer monitors than they do when printed. A hard copy from our calibrated proofing system is the only real way of seeing how the colours will look.
We Can Help
We are willing to have a look at any file you have! Send it in and we will let you know how "press ready" it is. If it needs work, we will let you know how much will be involved in converting or fixing it for you.
Resources link: http://valueofpaperandprint.com.au/
Embellish Specifications
FOIL – CREATING YOUR ARTWORK
Creating foil colour:
Elements to be in foil:
1. Create a 'foil' Swatch colour in the Swatches palette
2. Double click open the 'foil' Swatches and update to:
– Swatch Name to 'foil'
– Colour Type to 'Spot'
– Colour Mode to 'CMYK' (C11, M92, Y0, K0)
3. Select foil items and set to 'Overprint Fill / Stroke' as appropriate using Attributes
4. Ensure all spot foil elements are put onto its own layer named 'foil'
FOR THE BEST RESULTS:
• Foil is only available on 420gsm with a soft-touch laminate
• Keep foil 2mm away from trims, fold and scores
• Limit the use of the foil; embellish your artwork (don't use it for an area larger than 5cm x 5cm)
• If using foil for images and text, reduce the weight to 50% over text
• Place artwork into Photoshop, set image to 360dpi and zoom in to the maximum, ensure areas are
3 pixels solid (100% filled pixels). Spacing between gaps also have to be 3 solid pixels
• Rather than filling solid areas, use Super Gloss for line and pattern designs all over
Speak to our team about bespoke embellished print.
Resources link: https://www.whirlwindprint.com/
Artwork Setup for Spot UV/Foiling/Embossing/Latex
1. In Illustrator create your document/artwork.
Choose the correct pantone colour from the swatches > open the pantone solid
coated swatch book > Pantone 102
(if setting up for spot uv, see table for other finishing colours)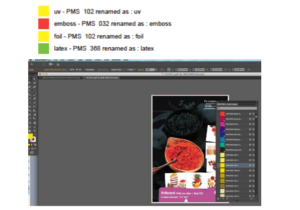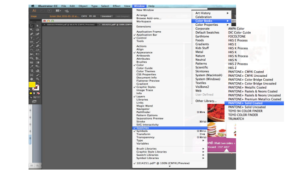 2. Rename the pantone colour > from your swatches window double click new colour >
change colour mode to CMYK (this is so you can rename the swatch, Colour Type
must stay as Spot Colour > manually rename to uv (all lower case)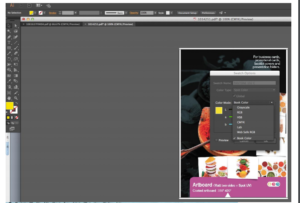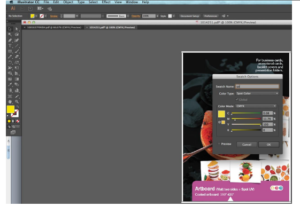 If working in InDesign, creating the new swatch is a slightly different process.
Go to Swatches > Create New Swatch>Change Colour Type to Spot
>Colour Mode Pantone Solid
>Choose Pantone 102 (for spot uv, if setting up for another finishing please see table on frist
page)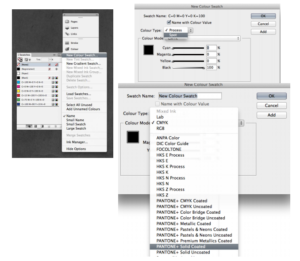 3. Copy area requiring spot uv to a new layer > select the artwork requiring spot uv >
copy > paste into a new layer name uv.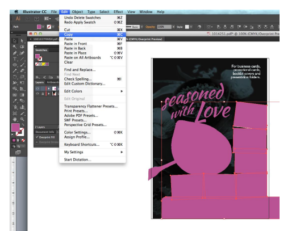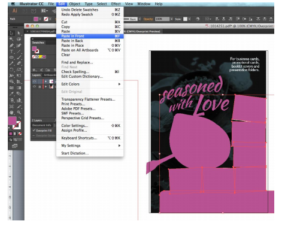 4. Define the spot uv area > Select the artwork requiring spot uv from the uv layer >
Click the fill option in the colour window > Select the new uv colour.
(Page 1 of the pdf should always be the page containing the UV/Emboss/Foiling)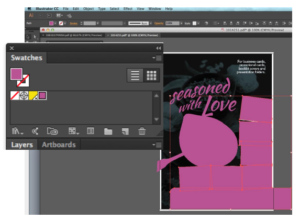 5. Set the selected artwork to Overprint Fill from the attributes window.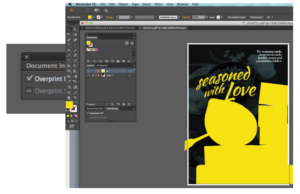 6. Final Check > from the view menu, select Overprint Preview
Below is a quick reference guide on how your artwork should appear once spot uv,
embossing/latex layer has been applied.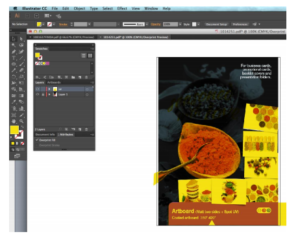 PLEASE NOTE: as foil is an opaque finish and you cannot see the CMYK printed underneath,
it is best not to set up any CMYK under the foil artwork.
Embossing can also be supplied with no CMYK underneath if you wish to have a "blind"
emboss effect.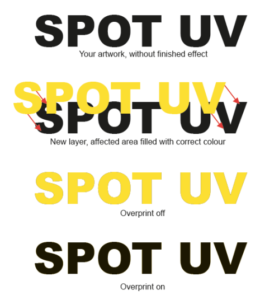 Resources link: https://www.whirlwindprint.com/